ABOUT US
We would like to introduce ourselves, M-Secure, an expert on security composed of white-hat-hackers.
Introduce of M-Secure
M-Secure

is an expert on

hacking and security

made up of white-hat-hackers

and is developing a new, innovative technology and product through the continued research. We are developing a security solution and doing research on the vulnerabilities of the software, and offering professional consulting services on the vulnerabilities.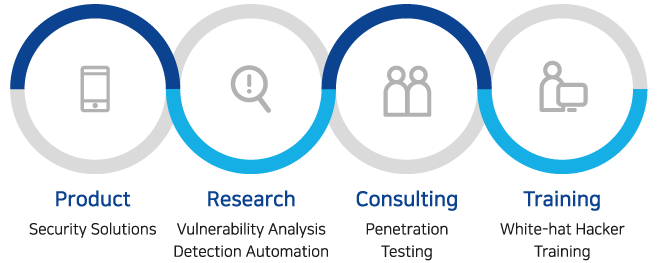 Team of M-Secure
M-Secure has both attacking and development technology and is a company in which the three elements of hacking, security, and development achieve a perfect balance. We are composed of the research team studying the automation of hacking, security solution development team, and research team mainly studying the vulnerabilities, with the laboratory as the center. Outside the company, we have organized the hacking contest or took part in the contest and won the prize, and also unveiled our technology and the findings from the study of the vulnerabilities at the various hacking conferences.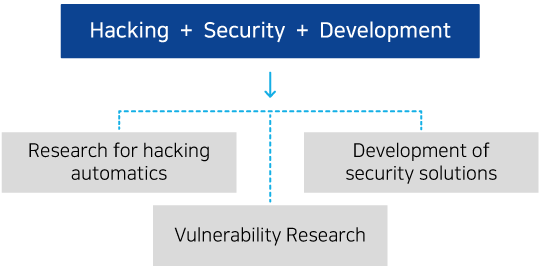 CEO Greeting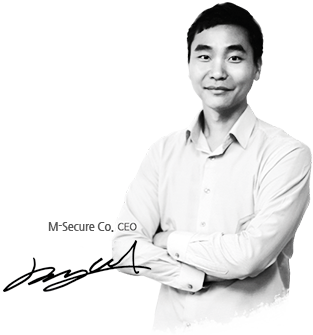 Hello. I'm Hong Dongcheol, the CEO of M-Secure Inc.
M-Secure is a company that specializes in mobile security composed of white-hat-hackers and is mainly developing the security solution services, and researching and analyzing the vulnerabilities.
Hacking and security! We promise to provide reliable, innovative security services, with utmost professionalism.
History
App Vulnerability Check Tool vFinder provided(Nice Information Service, Hanwha life)
Korea Internet & Security Agency AI vulnerability detection track contest support
Development of Linux Ransomware Products Based on Encryption Behavior
Korea Internet & Security Agency AI Hacking Competition
Hosted the Automatic Hacking Challenge in Tokyo, Japan
Intelligent Hacking Contest Platform Development
Establishment of M-Secure US Inc.
Developed the education contents for penetration testing course of the K-Shield, operated by Korea Internet & Security Agency.
Performed the penetration testing for Pyeongchang Winter Olympics Games & Winter Paralympics.
Launched "V-Finder", a tool for checking the vulnerabilities of mobile apps.
Developed the platform for the 'Advanced Hacking Defense Contest' for IITP, Ministry of Science and ICT.
Developed the data label generating tool for classifying the network traffic for National Security Research Institute.
Launched "SafeApp", mobile security solution.
Set questions for HDCON (Hacking Defense CONtest) and provided operational support for Korea Internet & Security Agency.
Made the tool for attacking the mobile terminal to conduct a security inspection and give a demonstration of the military convergence security solution for Electronics and Telecommunications Research Institute.
Performed the penetration testing and checked for the vulnerabilities for Lotte Department Store.
Designated as the service provider supporting specialists for information security by Korea Internet & Security Agency.
Developed the solution for preventing the leakage of important information in the sensor-based environment.
Encryption of the mobile ISP and application of the checking tool for detecting the hacking process for VP Inc.
Checked for the vulnerabilities of KT's service open to the outside and performed the penetration testing for KT Hitel. Co., Ltd.
Launched "SpyScanner", solution for detecting and preventing the spy apps.
Launched "SafeVoice", solution for voice phishing based on voice analysis.
Established M-Secure